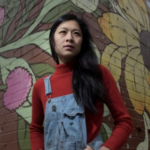 Mural: Big Peony
Artist: Ouizi
Artist Website: ouizi.art
Mural Location: The Landing 
Mural Address: 123 West Columbia Street, Fort Wayne, IN 46802
Louise Jones (née Chen), aka Ouizi, was born and raised in Santa Monica, CA. She is best known for her large-scale floral mural installations. Her murals often depict site-specific plants and animals. Her affinity towards botanical subjects grows from an early introduction to Georgia O'Keeffe and fond memories of picking figs with her grandmother. She currently lives and works in Detroit. 
Funding for this project is made possible by a generous donation from an anonymous partner and the Fort Wayne Downtown Improvement District, with special thanks to Brendon Maxwell, Matt Reckman, and Model Group.