2023 Art This Way Art Crawl: Alley Bash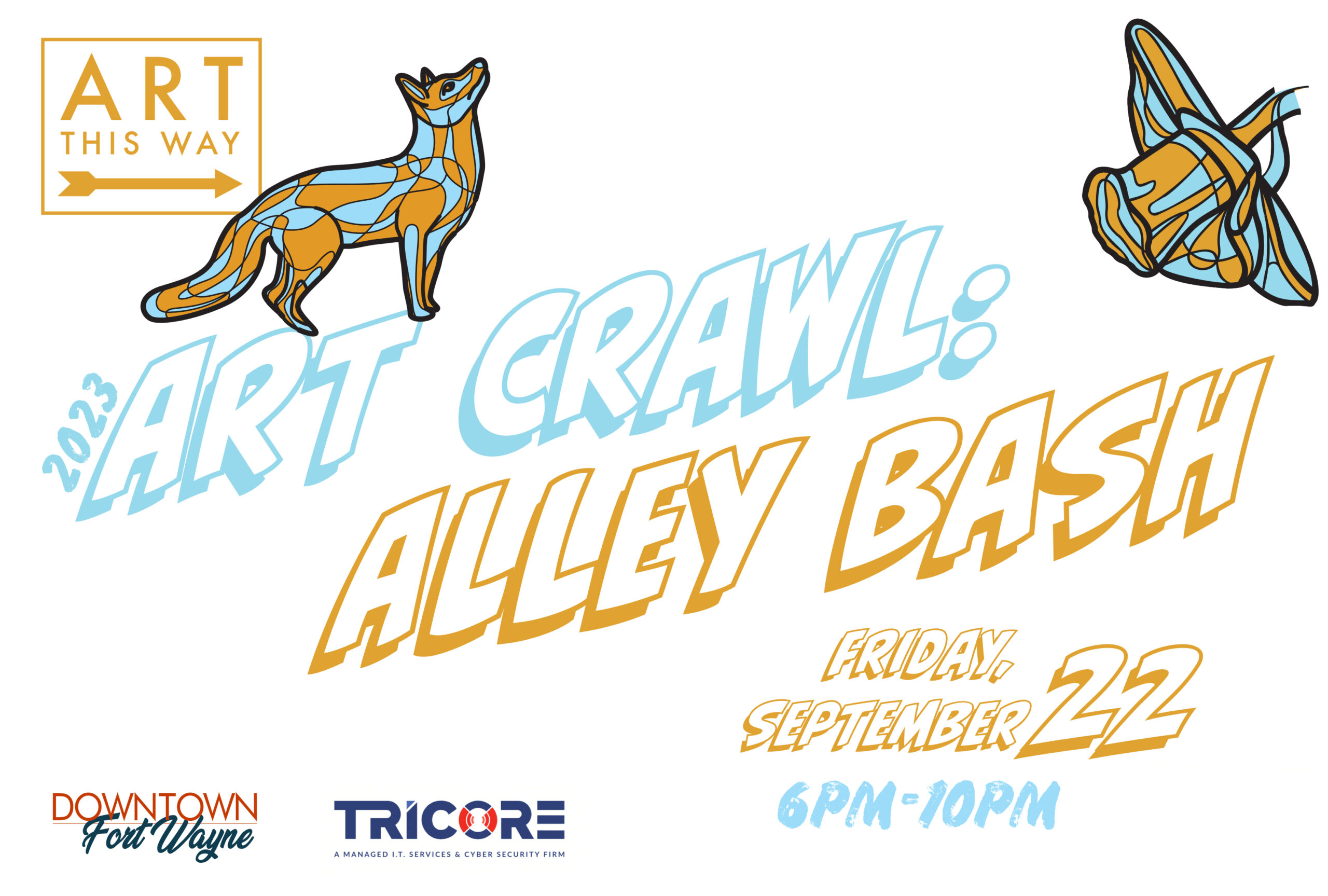 The 2023 Art This Way Art Crawl: Alley Bash event and programming will be held outdoors in Downtown Fort Wayne's art-filled alleyways. This year's event footprint will include the Bill Blass Runway, The TriCore Porch Off Calhoun, and the patio space behind JK O'Donnell's (all of which are part of the Double Plus alleyway network in DTFW).
This vibrant, urban event will feature artists in motion, live music, the sale of alcoholic beverages, a silent disco, and a family-friendly scavenger hunt with huge prize giveaways. Dash-In and JK O'Donnell's will be the two featured beverage providers for the event. No indoor stops or food will be included as part of the event ticket this year. Because of these adjustments, ticket costs have been reduced. Tickets are $10 per person, and all proceeds go toward funding public art in DTFW.
Lutheran Life Villages' Make Music Fort Wayne piano will return to the event this year with special thanks to Kevin Naber.
Artists:
Theoplis Smith III, aka Phresh Laundry [painting demo]
Joseph Pelka [painting demo and pottery]
Angelina Passemoto [painting demo]
Julie Wall [printing press demo]
John Kelty [plein air painting demo]
Drece Guy [painting demo]
Seth Green [pottery wheel demo]
Greg Duncan (Sol Eye Glass) and Emily Simpson [glass fusing demo]
Julia Hyndman [painting demo]
Diane Young [painting demo]
Jake Patten
Bands:
James & the Drifters [folk rock]
Be Colony [psychedelic rock]
DJ Polaris [R&B, soul, contemporary]
C. Ray. Harvey [electronic/ house music]
Debutants [folk/bluegrass]
Farmland Jazz Band [big band/jazz]
Silent disco DJ: Joshua Helton
Chalk Artists:
Jasmine Pilkinton
Madison Matilda Radcliff
Tammy Davis
Bonnie Andrews
Hannah Rutigliano
The 2023 Art This Way Art Crawl: Alley Bash is presented by Downtown Fort Wayne and TriCore, proudly sponsored by Friends of the Rivers, Bill Blass Legacy, Inc., WANE 15, JK O'Donnell's, Dash-In, Poptique, Pop Pop Balloon, HOT 107.9, ARC Document Solutions, and GLO Magazine.