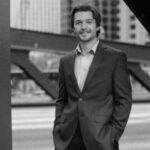 Mural: Conquer Above
Artist: Mitchell Egly
Artist Website: EGLYILLO
Mural Location: Allen County Republican Headquarters
Mural Address: 135 West Main Street, Fort Wayne, IN 46802
The mural by local artist Mitchell Egly commemorates Fort Wayne's 122nd Fighter Wing and the memorialized aircraft at Heritage Park. This latest public art installation serves as a tribute to all veterans. It is meant to help further Warrior Breed MC's mission to focus on veteran issues, including Traumatic Brain Injury (TBI), Post Traumatic Stress Disorder (PTSD), and Veteran Suicide Prevention. Warrior Breed MC's mission is to take care of those that sacrificed for our freedom.
Funding for this project was generously provided by Warrior Breed MC and Downtown Fort Wayne.