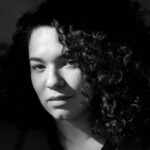 Mural: Pontiac Street
Artist: Lyndy Bazile
Artist Website: lyndybazile.com
Mural Location: PNC Plaza
Mural Address: 123 W Main Street, Fort Wayne, IN 46802
Bazile, the artist behind AfroPlump, is of Haitian descent and prides herself on incorporating her ancestry into her artwork. Bazile describes her passion as a mechanism to better connect to her roots and demonstrate her support for traditionally marginalized cultural communities.
This mural installation is possible thanks to our community partners: Kurt Henry, PNC Bank, Downtown Improvement District, and sponsors of Art This Way.