Art This Way Adds Vibrancy to the Urban Experience During the Art Crawl in Downtown Fort Wayne 
For Immediate Release: Monday, September 19, 2022
Contact: Alexandra Hall, Director of Art This Way
260-417-5925 |  [email protected]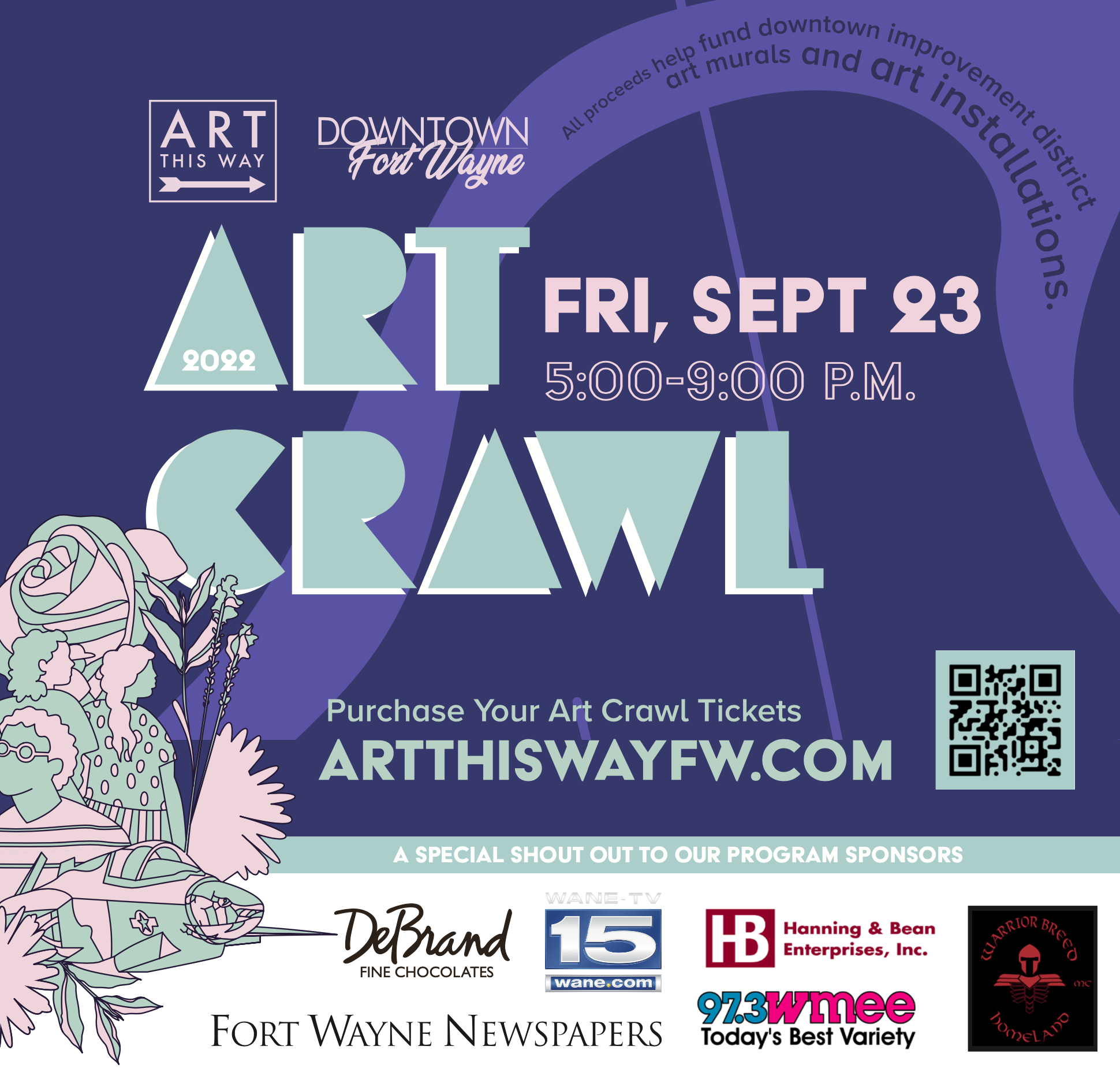 FORT WAYNE, Ind. – Art This Way, a program of Downtown Fort Wayne, will host its fifth Art Crawl fundraising event on Friday, September 23, from 5:00 – 9:00 p.m, in Downtown Fort Wayne.

With each ticket purchased, attendees will gain access to 12 unique locations along the Art Crawl. All participating venues will feature a live artist performance, live music, a gallery show, free appetizers and a cash bar. New to the event this year is a devoted alleyway to a silent disco where attendees are equipped with wireless headphones to listen to music and dance the night away!
Along the Art Crawl, featured artists include:
· Theoplis Smith III (Phresh Laundry), Hilarie Couture, Bryan Ballinger, Olivia Perez, Dave Lough, Bread & Circus Gallery artists


Featured musical entertainment from:
· Todd Harold & Eric Clancy, Alicia Pyle & The Locals, The Legendary Trainhoppers
· DJ TOMB at the silent disco


Special thanks to these local establishments for providing food and beverages:
· Copper Spoon, Hall's Restaurants, Dash-In, Three Rivers Distilling, The Charlie Horse, Sweets on Main, JK O'Donnell's, Poptique and Smile More Meal Prep LLC
The completion of the Unity Mural will be celebrated with a dedication event on-site, beginning at 6:15 p.m. This latest addition of public art is nearly 4,000 square feet, intended to serve as a visual representation and vibrant celebration of Fort Wayne's diverse community. The mural is located on the east and west sides of the railroad underpass near The Landing, at the 600 block of South Harrison Street, Fort Wayne, Indiana 46802.
As part of the Art Crawl, the Bill Blass Legacy joins Art This Way and the City of Fort Wayne to dedicate the "Bill Blass Runway" starting at 7:00 p.m.
Children and adult merchandise of "Lion's Dance," a local mural completed by Tokyo-born artist JUURI, will be available for purchase. Apparel will be sold exclusively at the Art Crawl on a first-come, first-served basis, courtesy of local boutique The Find.

Enjoy a night out and support the public art community during the Art This Way Art Crawl. All money raised at the event will go directly to funding public art in Downtown Fort Wayne.
*Tickets will also be available for purchase at all Art Crawl kiosk locations on the day of the event.
Funding is provided by Downtown Fort Wayne and Art This Way. Thank you to our 2022 Program Sponsors: DeBrand Fine Chocolates, Warrior Breed Motorcycle Club LLC, CertaPro, MKM Architecture, 97.3 WMEE, Fort Wayne Newspapers, WANE 15, Hanning & Bean Enterprises, Inc. and Bona Vita Architecture. Thank you to our 2022 Art Crawl Sponsors for making this event possible: Glo Magazine, Copper Spoon, Dash-In, Sweets on Main, Hoch Associates, Start Fort Wayne, Jeffrey Benjamin Hair, Citadel, Innovative Engineering Services, Narrative Design & Furniture, Star Financial Bank, Hagerman, Bill Blass Legacy, Three Rivers Distilling, The Charlie Horse, Hall's Restaurants, JK O'Donnell's, Poptique, Pop Pop Balloon, The Find, Smile More Meal Prep LLC, Lutheran Life Villages, Bread & Circus Gallery and ARC Document Solutions.