Art This Way Announces Ouizi to Install Mural At The Landing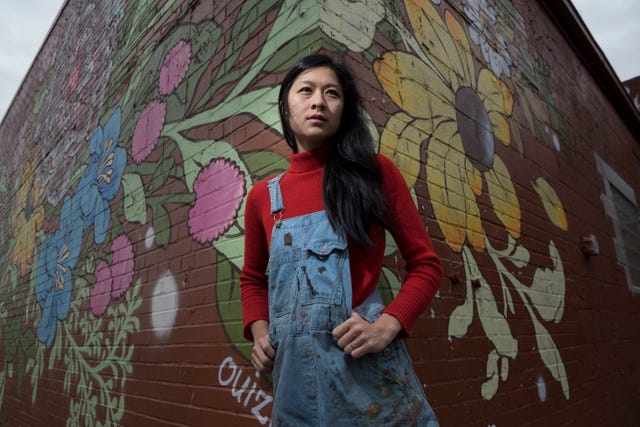 August 30, 2021 – A massive new mural is being installed at The Landing in Downtown Fort Wayne, IN, further adding to the vibrancy of the historic community district.    
Art This Way and Downtown Improvement District (DID) are pleased to announce that internationally renowned artist, OUIZI, will be painting a mural at The Landing, located at 123 West Columbia Street, Fort Wayne, IN 46802. The mural will cover the entire east elevation of the building and will be approximately 6,000 square feet in size.
Ouizi will begin work on August 30, 2021, with plans to be completed by September 17, 2021. The public is encouraged to visit the mural site to watch the artist work during the installation. On Friday, September 17, at 6:00 pm, the community is invited to join us in a dedication event! There will be live music and an artist talk. This dedication is in conjunction with the Art This Way Art Crawl, a September 17, 2021, a ticketed event that runs from 5:00 pm – 9:00 pm in Downtown Fort Wayne.
This mural contributes to the growing concentration of public artwork within Downtown Fort Wayne. Other murals near this work include the 2020 installation outside of Mercado by local artist Theoplis Smith III, the large-scale buffalo mural at Nawa by artist Tim Parsley, and mural installations at 222 Pearl Street by local artists: Lyndy Bazile, Bryan Ballinger, Jeff Pilkinton, Julia Meek, Sky Rodriguez, Theoplis Smith III, and Raul Perez. 
"We work to strike a balance between hiring regional talent and artists from around the globe to contribute to our growing collection of public art. It is exciting to have local artist's work on display alongside an Ouizi mural," said Manager of Art This Way and public art consultant Alexander Hall. "You can find Ouizi's large floral works across the world, in China, the east coast, the west coast, and now in Fort Wayne, IN." 
Louise Jones (née Chen), aka Ouizi, was born and raised in Santa Monica, CA. She is best known for her large-scale floral mural installations. Her murals often depict site-specific plants and animals. Her affinity towards botanical subjects grows from an early introduction to Georgia O'Keeffe and fond memories of picking figs with her grandmother. She currently lives and works in Detroit. You can find out more about the artist and see her work at www.ouizi.art.       
The Landing is a historic neighborhood and commercial district in Downtown Fort Wayne comprised of vibrant, independent businesses and an exciting social atmosphere. Visitors and residents alike are attracted to the area for its walkability, diverse businesses and events, unique pedestrian plaza, charming tree-lined streets, and remarkable architecture.
The Landing Ambassador Brendon Maxwell stated, "We are thrilled to partner with Art This Way to bring world-renowned artist Ouizi to Fort Wayne. This will be an amazing addition to the growing work of top-tier murals in the area, and we're honored that it will be gracing the side of one of our buildings!"
Funding for this project is made possible by a generous donation from an anonymous partner and the Fort Wayne Downtown Improvement District, with special thanks to Brendon Maxwell, Matt Reckman, and Model Group.